Nov 26th
I like to send out congratulations to these Alberta shooters who made the All Canadian team. In order to make this team you have to shoot a minimum of 1000 targets in each discipline and you must attend your own provinces provincials. The rules have been modified for the upcoming year in that you now have to shoot all of your own provincial championship targets (400) The previous rule you just had to attend one event. That same meeting had a hotly debated issue in that attending just the Canadians did not make you eligible for team Canada you had to attend your provincials. The vote was 4 to 3. Alberta BC and Quebec voted that Attending the Canadians alone should make you eligible.
Team Canada's Captain for the second year in a row is Brad Johnson 95.26 no 2 ranked Art Peyton 95.05 no 4 ranked Shawn Mcneil 94.74 no 7 ranked Tom Foss 93.38 no 10 ranked Garry Hill 92.89. Five of the top ten from Alberta hoowaa
The fall grand had some good results from Alberta shooters. Art Peyton won the pre grand singles with the lone 200 straight. Brad Johnsons 98 in the championship handicap was good enough for third after beating Scott Obenchain in a shoot off 24 / 23. Scott is one of the top Shooters in all of the USA. Rod Hymus had one of his best doubles scores with a 95 and shot above his average all week long. Our top three Albertan's in the HOA finished 11th Brad Johnson 1060/1100 18th Art Peyton 1053/1100 and 36th Jesse Smith 1040/1100.
Oct 11 th
Our 2022 all stars have been named congratulations to Barry Johnston and Tom Foss for making the team. Toms average was high enough to make the All Canadian team and the first team of Alberta. He will be getting a custom belt buckle to acknowledge his great year. Our Alberta clubs should take a bow we managed to throw the 2nd most ATA targets of any province. Ontario threw the most 448275 and we had 349800. We did well for a province of 4 million. The most Alberta targets, 10550 were shot by Darin Schuller. Thank you Darin for supporting Alberta trap shooting a Shamrock leather bag is headed your way.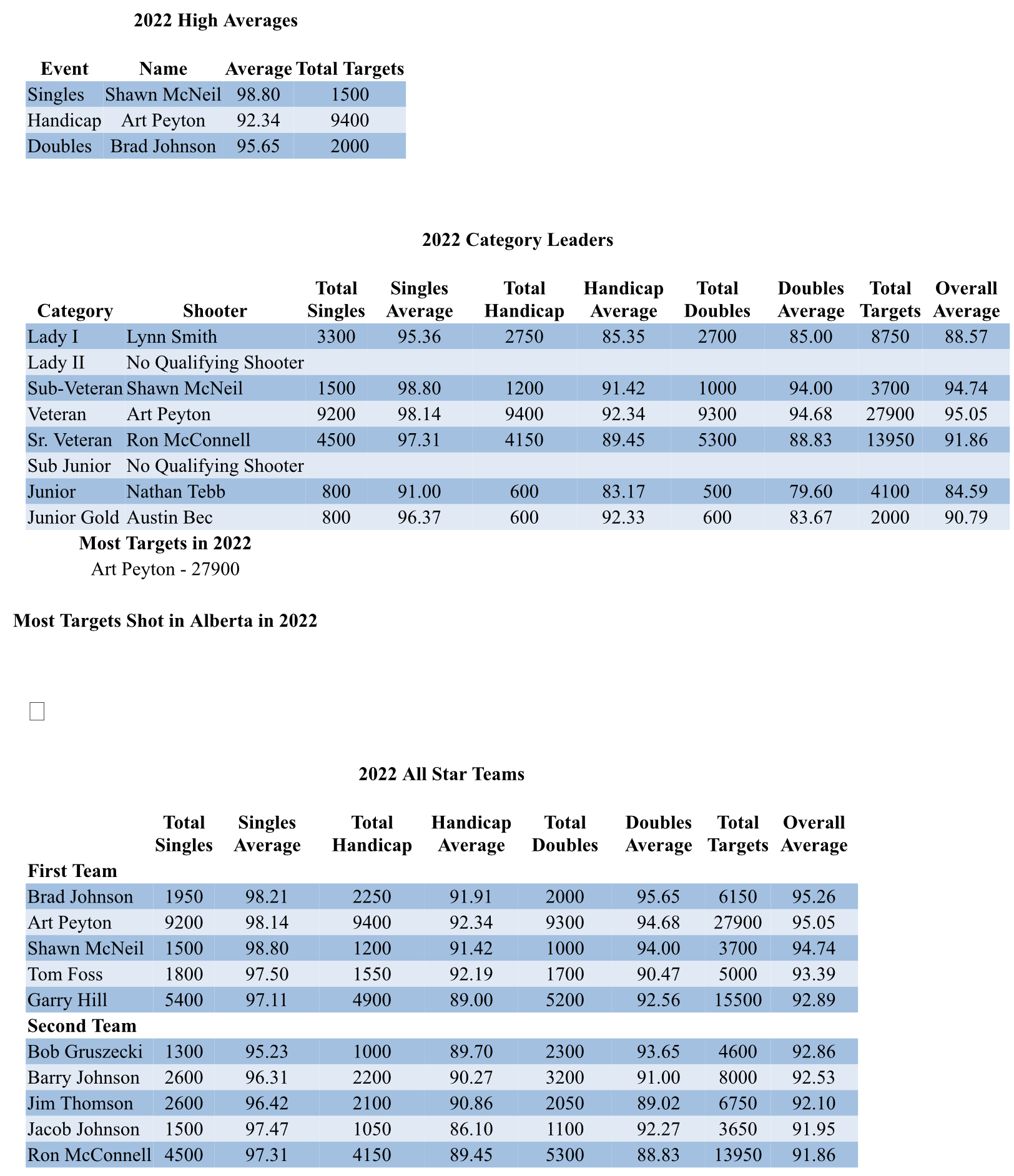 Visit our News Archive.